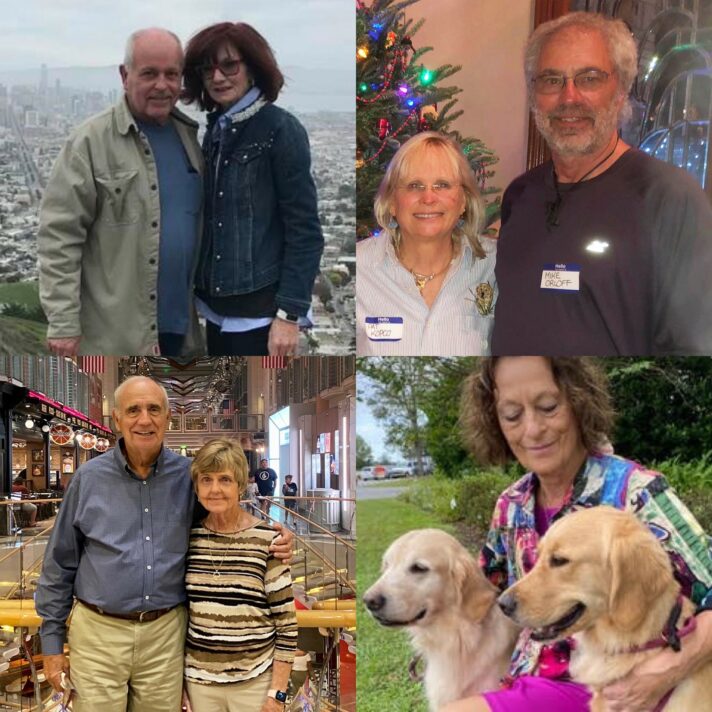 Recognizing members who have rendered extraordinary service to the Mid-Florida Golden Retriever Club over a long period of time, the club's Board of Directors has honored seven longtime members with Lifetime Memberships in the club.
Those named were Mike Orloff and Pat Kopco of Dover, Fla., Camille Nasca of Orlando, Fla., Ann and Bob Rowe of Sorrento, Fla., and Dee and John Thibodeaux of Sorrento, Fla.
Mike Orloff and Patricia "Pat" Kopco – Members of the club since 1994, the married team of Mike Orloff and Pat Kopco has been involved in almost every aspect of the club during that time. Both have served multiple terms as board members and Pat has been club president. Pat also has been active with the Golden Retriever Club of America, serving a four-year stint as Eastern Director for the GRCA Board of Directors. Both have assisted with working at many club events over the years, previously traveling from Miami to the Mid-Florida area before they relocated to their current residence. Both are multiple-time winners of the club's "Mover and Shaker" and "Above and Beyond" awards and Pat was honored as Member of the Year for 2021 after leading the club's hosting of the 2021 GRCA National Specialty as chair. Mike retired from his position as Hunt Test chair for the MFGRC after 2021, a position he held for many years, but he and Pat remain active judges for hunt tests and WC/WCX events.
Camille Nasca – A member of MFGRC since 1987, Camille has been an active and integral part of the development of this club. She served two terms as president, multiple terms as vice president, treasurer and board member and is a member of the 2022 board. In 1997 she and another club member spearheaded the process of applying to the AKC for licensing, leading to her serving as chair when the club hosted the 1998 GRCA Eastern Regional. In 2002, she was the general chair when MFGRC hosted its first GRCA National Specialty. Through the years she has chaired a number of WC/WCX's, supported entries and agility trials and in recent years she has been the trophy chair for the club's annual specialty and was trophy chair for the 2021 GRCA National. She has received numerous awards from the club, including being named "Member of the Year" for 2015. She also spent several years as secretary for the Golden Retriever Foundation; a member of a nominating committee and chair of the CCA for the Ohio National.
Ann and Bob Rowe – Ann, who has been a member of MFGRC since the formation of the club in 1984, has served numerous terms as president, most recently from 2018-2021. She also has held the vice president position multiple times and continues this year as a board member. Over the years, she has chaired WC/WCX events for the club and in 2021 was hospitality chair for the club's hosting of the GRCA National Specialty. Ann and Bob have organized and hosted the club's annual Christmas party at their home, with few exceptions, for more than 20 years. They also host the club's annual Fun Match, an AKC-sanctioned "B" Match, of which Ann is the chair, at their home. She has been breeding and exhibiting Goldens for 35 years.
Dee and John Thibodeaux – having served MFGRC as president two times and vice president, and as a board member and event chair, Dee retired from her role as treasurer at the end of 2021. Most recently, she was chair of the club's two annual agility trials from 2017 through 2021, building the trials into large profit centers for the club with full entries and much praise within the agility community. In past years she worked at nearly every type of event the club has staged, including judging hunt tests and WC tests. Members of the club since 1990, Dee and John worked together on the agility trials and other events and both have received recognitions from the club. In 2019, Dee was honored with the Lloyd Kiernan Service Award and in 2016, John received the club's "Above and Beyond" award.