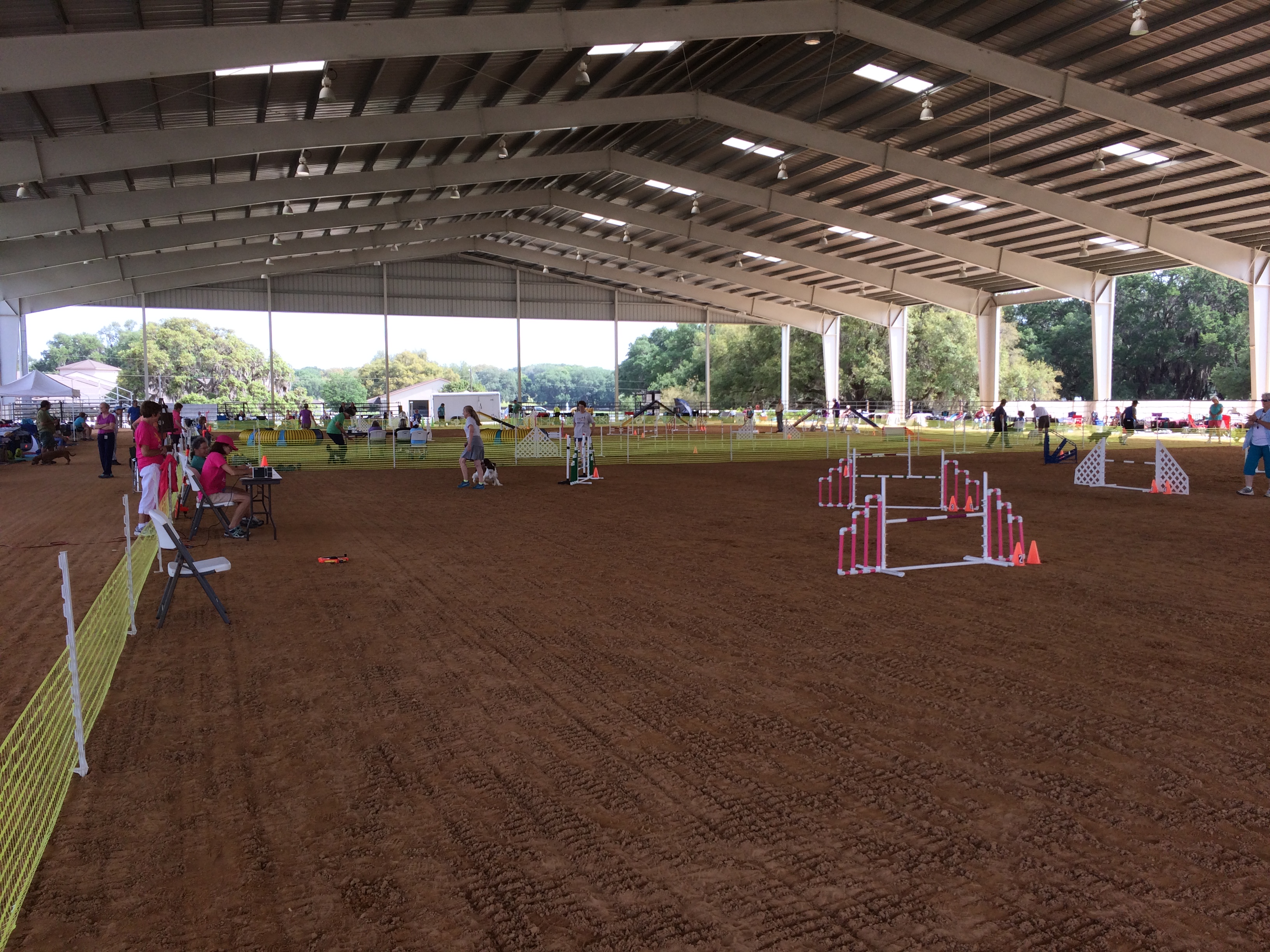 The Mid-Florida Golden Retriever Club hosted an AKC All Breed agility trial at the Grand Oaks Resort in Weirsdale Florida on April 22, 23 & 24. The event proved to be a success with the help of both club and non-club members. Some of the club members that I would like to recognize for their hard work and support all weekend are; Rosa Blair, Mike Orloff and Pat Kopco, Bob Young, Dee and John Thibodeaux, Pat Carlile, Andy Hall, Camille Doehring, Ralph Orlando, Ann Rowe, Michele Throm and Betty Lambert. Without the tireless help of these folks thetrial would not have been successful. Thank you folks so much for pitching in!
Our judges this time were Bob Jeffers and Lisa Rieves. Their courses were great and all of the exhibitors enjoyed running their dogs thru the courses they designed. We enjoyed working with them, building their courses and watching the dogs navigate the obstacles. Along with the judges our trial secretary, Jill Roberts, performed without a flaw almost going un-noticed. Jill and her team have been performing the agility secretary's duties for our club for quite a while.
The Grand Oaks Resort staff was awesome! They catered to all of our needs, sometimes in a moments no-tice. They prepared the surface of the agility rings to perfection after the conclusion of each days runs. There was nothing but praises coming from the exhibitors relative to the running surface and the trial location.
We brought in the Army JROTC from Lake Weir High School as volunteers to help run the rings on Saturday and Sunday. This group of young adults was phenomenal. They worked hard to help build courses, set bars, run leashes, run scribe sheets and even stayed on Sunday to help us load the equipment back into the agility trailers. Their attitudes and courtesy was a welcome presence and noticed by all at the trial.
We had around 1064 runs for the 3 days and out of that came 3 MACH titles, one of those belonging to one of our own club members Pat Carlile. Congratulations Pat!
All in all the trial was a huge success. Yes we learned a few things here and there, but minimal considering it was our first time conducting an agility trial at this site. We will be back there in October of this year for our 2nd trial. I hope that more club members come out to help, see this wonderful location and enjoy the abilities of our be-loved canines performing in the sport of dog agility!
Kind Regards,
John Blair
MFGRC Agility Chair