As we're into another year with the Mid-Florida Golden Retriever Club, we wanted to let the members get to know a little more about the officers and board members who are leading our club this year.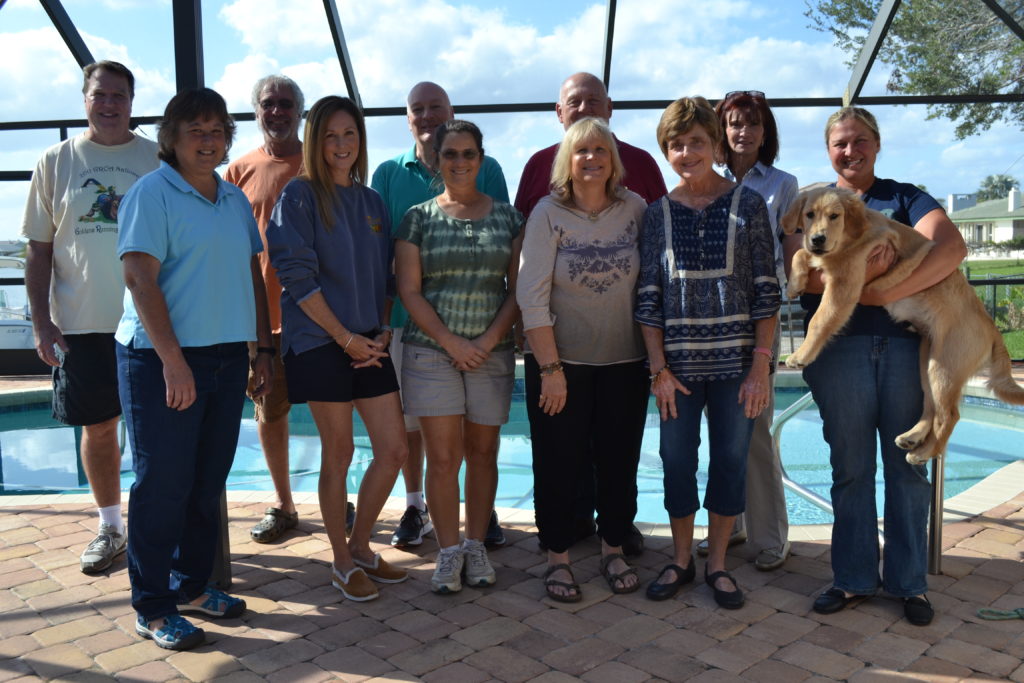 OFFICERS
John Blair – President (in his own words)
My wife Rosa and I joined MFGRC in 2001 just in time to help with the 2002 National Specialty. I helped on the grounds committee as well as the agility and obedience trials while Rosa helped on the merchandizing committee. We were both previously on the board in 2010 and 2011. I was the agility chair in 2010 thru 2012 as well as chairing the agility trials at the 2011 and 2014 GRCA National Specialties. I have also chaired the MFGRC hunt test under the tutelage of the late Susan Fullenwider. I was on the board last year and am now serving as club president. Currently we show our dogs in conformation and lure coursing, with hopes to get back into obedience, hunt tests and dock diving. We have previously tilted dogs in conformation, agility, obedience, rally, hunt and WC/WCX. We have owned/bred four AKC Champions. I am most proud of the agility 1st place Excellent JWW placement my dog Star and I achieved at our 2002 National Specialty. We had our picture posted in the GR news!!! Not so bad considering I didn't get to walk the course beforehand because I was helping in the standard ring. Rosa and I have been breeders since 1999 and have whelped over 160 puppies. Rosa is a professional dog groomer working one day a week at Cocoa Veterinary Hospital and the rest of the time out of our home. I am retired after 32 long years from Lockheed Martin Space Systems Co. where I spent most of my time managing the assembly and launch of unmanned spacecraft from Cape Canaveral Air Force Station.
Ann Rowe – Vice President
A member of the MFGRC since the club started in 1984, Ann has served two terms as the club's president and has held her current position of vice president multiple times, as well as serving as a board member. In addition to her duties as vice president, Ann also is membership chair for the club and she hosts the club's annual "Fun Match" at her home. The owner of Magik Goldens in Sorrento, Fla., she has been breeding and exhibiting Goldens for more than 30 years in both Central Florida and around the country. She has owned or bred many champions in various types of competitions. Her two proudest moments: when her dog Stetson got High in Trial in Obedience at a Specialty in what was their first time competing in the Open class. Also, this past November at a show in Ocala, Fla., on the same day, three dogs that she bred were Winners Dog, Winners Bitch and Best of Breed.
Dee Thibodeaux – Treasurer
An active member of the MFGRC since 1990, Dee has been president twice and also has held the officer positions of vice president and her current position of treasurer, as well as serving as a board member. This year she is chairing the club's two agility trials and in past years has worked at nearly every type of event the club has staged, including judging hunt tests and WC tests. She has competed in breed, obedience, agility, field and dock diving, and this past year she and her husband John's Golden Mach Deauxquest it's A Hot UD RN MXC MJC DJ (Sizzle) was the Versatility Dog of the Year and Obedience Dog of the Year for the MFGRC. John also was the recipient of the club's "Above and Beyond" award for his work in support of club activities. Dee, who lives in Sorrento, Fla., is most proud of her bred-by champions and the Machs she has won. She is retired from a career as a life underwriter.
Andy Hall – Secretary
In his first year as Secretary after having been a member of the board for the first time in 2016, Andy also this year is chairing the club's obedience trial in August. He's worked as a volunteer at many of the club's other events the past three years and received the Lloyd Kiernan Award for 2016 for service to the club. He and his wife Barbara live in Port Orange, Fla., and became family members of the club in 2014. Barbara has earned Obedience and Rally titles with Mo, their three-year old Golden boy, and Andy has just started training for Rally with their nine-year-old girl Marley, who he also plans to show in some Veterans conformation events. They also have competed in conformation with Mo. Andy has worked in sports and television PR/communications for 35 years and is a communications director for ESPN, responsible for SportsCenter, motorsports and golf.
BOARD MEMBERS
Anney Doucette
Anney Doucette brought home her first Golden in 1992 and joined MFGRC shortly after. She currently lives in Gainesville, Fla., and is a graphic artist, owner of K9-Design.com. She competes in conformation, field and obedience with her Golden boys, having owner-trained and handled three AKC Champions, three Master Hunters, two High In Trial winners and two Dual Dog Hall of Fame dogs. She earned the MFGRC's Fallchase Owner-Handler Award in 2016 and her dog Ballyhoo was Field Dog of the Year for the club.
Patricia (Pat) Kopco
A member of the MFGRC since 1994, Pat has served the club as president and as a board member. She also has been active with the Golden Retriever Club of America, serving a four-year stint as Eastern Director for the GRCA Board of Directors. She and husband Mike Orloff have titled dogs in obedience, agility, conformation and field, and she has been an AKC field judge for five years. Pat's proudest titles were for her dog Jagger's Dual Dog Hall of Fame title (CH/MH) in 2011/12 and Ozzy's Reserve Jam in the Qual at the National Specialty field trial in Wichita Falls, Tex., in 2013. She currently has four dogs that all do or will compete in field, obedience and conformation. Pat is a divorce lawyer and former prosecutor and before she went to law school, she worked for NBC News for 15 years based in Miami covering Latin and South America. She lives in Dover, Fla.
Betty Lambert
A member of MFGRC since 2004, Betty has served on the board six years and was the Club Secretary for three years. She has been the proud owner/co-owner of five dogs from Magik Goldens over the years and has done Rally, Obedience, Tracking, and Conformation with her Goldens. Her most proud moments in the ring came when her boy Kasey, most often along with his brothers Jack and Chippie, helped their awesome dad, Stetson, win the Stud Dog class over the years at specialties and once at the International show in 2007. "I was not an official co-owner of Stetson but I loved him dearly and those were very happy, proud moments when he won that class with Kasey in the ring with him," she said. Betty has worked for the Osceola County Sheriff's Office for 20 years and is a Human Resources Specialist but works primarily in recruiting and background investigations, processing applicants hoping to be hired as sworn law enforcement officers.
Ted Misilo
A familiar face at most MFGRC events, Ted is in his second term as a member of the board after having served as the club's president in 2016. He first joined the club in 2013 and has worked at the club's hunt tests as well as the annual Specialty, the Obedience Trial and more. His volunteer efforts at club events helped Ted earn the 2014 Nancy McCune Member of the Year for service to the club. Ted's sons Tom and T.J., who maintain the club's website (mfgrc.org), were named "Members of the Year" for 2016 for their contributions to the club that also included working at numerous club events. Ted and his family have competed in conformation with their Goldens and in a WC test. Originally from Massachusetts, where he worked as an electrician, Ted is retired and lives in Palm Bay, Fla.
Mike Orloff
Mike Orloff, who annually chairs the MFGRC's two hunt tests, has been a member of the club since 1994. In addition to the hunt tests, he also has worked at the club's agility trials and other events. He and his wife Pat Kopco compete in field, obedience, agility and conformation. Some of Mike's proudest moments came when their dog Jagger earned his Master Hunter title in 2009, the first such title one of Mike and Pat's dogs had earned, followed by Jagger's son Ozzy earning his Master title at the age of two in 2012. Their dog Axl earned a Master Hunter title at the age of three in 2014. Mike is retired after 30 years as a television news technician, a job that required travel all over the world. He lives in Dover, Fla.
Kristin Sipus
Around Goldens since her parents bought their first one when she was one year old, Kristin Sipus' lifetime association with the breed continues as a member of the board of the MFGRC. She first joined the club in 2006 and has been a board member since 2014. She has been active in helping stage many of the club's events, including serving as head marshal/volunteer coordinator for hunt tests and WC/WCX secretary and has volunteered at most other events. She currently competes in conformation, hunt tests and field trials. In the past she has competed in obedience, tracking and agility, and she hopes to return to obedience and tracking soon. She has trained and handled two dogs (mother and daughter) that are members of the Dual Dog Hall of Fame (breed championship and Master Hunter) and she is working on her third. Her first to finish her breed championship did so by winning back to back five-point specialty majors (owner handled) at the MFGRC specialty and the eastern regional in 2012 and earned her MH shortly after. Her daughter finished her MH in the spring of 2014 and her CH that same fall. Kristin has a degree in Equine Science and Stable management. She and her husband, who is a retired jockey, own and operate a thoroughbred training center near Ocala, Fla., where they buy, sell and train young race horses.
Michele Throm
Michele has been a member of MFGRC since 2012. She served as Club Secretary in 2015 and 2016 and currently serves as a board member. She has volunteered at all of the club events at various times over the years and lives in Casselberry, Fla., with her Golden girl Bella. They have earned titles in Agility, Rally, Obedience, and Dock Diving, as well as earning a WC and CCA. They have also competed in hunt tests and conformation. Michele works as a Sales Manager for a major sports equipment distributor responsible for education sales in the Southeast.