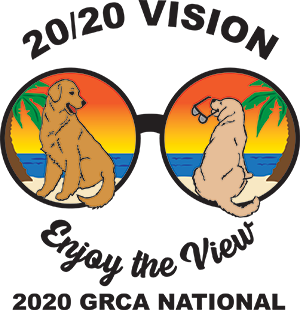 The new website for the 2020 Golden Retriever Club of America National Specialty, hosted by the Mid-Florida Golden Retriever Club, is now live.
The website is a "go-to" site for exhibitors and others planning to attend the National, which will be held October 16-28, 2020, in Ocala, Fla. It includes hotel and schedule information, details on venues and more. The website will be constantly updated as new information becomes available.
The National will include 13 days of competition, social events, clinics, seminars, shopping and more with the majority held between Monday, Oct. 19, and Saturday, Oct. 24 at the new World Equestrian Center in Ocala, Fla. Best of Breed will be on Saturday and close activities in Ocala.
A three-day Hunt Test will kick off the National beginning Friday, Oct. 16, and a three-day Field Trial will conclude on Wednesday, Oct. 28. The Hunt Test and Field Trial will be held at Lazy J Ranch in Williston, Fla., which is only 25 miles from the World Equestrian Center.
The website can be accessed at this link: https://2020.grcanational.com